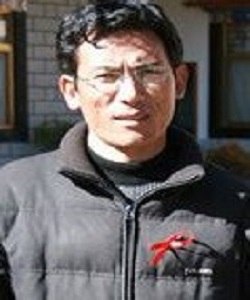 Wangdu was arrested in March 2008 during the protests against the Chinese occupation that swept across Tibet. He was charged with espionage and sentenced to life imprisonment for sending an email about the crackdowns he witnessed on Tibetan protesters. The Chinese authorities claimed that he harmed "the security and interests of the nation." 
Wangdu is believed to be detained in Drapchi Prison, but no information has been made available about his location or condition since 2012.  
Wangdu is part of Free Tibet's In The Dark campaign, which aims to find disappeared Tibetans and work for their release. We are working on the cases of eight political prisoners held by the Chinese authorities, all of whom remain cut off from the world with little or no information about their location or current condition. Urge China to release them and respect human rights! 
Add your voice to our petition, calling on Tibet Autonomous Region Governor to release Wangdu:
Dear Che Dalha,
We are contacting you to raise the case of Wandgu [旺堆] and to urge you to take all measures within your power to reveal his current location and secure his immediate release.
Wandgu is an HIV/AIDS activist from Lhasa. He was detained on 14 March 2008 during the protests against Chinese control over Tibet and was subsequently charged with espionage and sentenced to life imprisonment.
During his detention he was reportedly beaten, raising serious concerns that any confessions he provided prior to or during his trial could have been extracted under duress, a violation of China's obligations under international law, as well as China's Criminal Procedure Law and its 2016-2020 Human Rights Action Plan.
According to Chinese officials, Wangdu has been detained in Drapchi Prison, however, his current detention conditions and wellbeing are unknown. The last update on Wangdu, from 2012, described him as being kept in solitary confinement in the prison hospital with injuries resulting from beatings in prison.
The lack of information over Wangdu's location and current condition raises concerns that he is at risk of further torture or other forms of ill-treatment, and that he could also be being denied access to necessary medical treatment.
Due to the conditions of his arrest, detention and trial, and the possible ongoing risks to his health, we urge you, in your capacity as chairman of the People's Government of the Tibet Autonomous Region, to:
Immediately disclose the whereabouts of Wangdu and work towards  securing his immediate and unconditional release from prison
Investigate allegations that he was tortured in detention, and that confessions extracted under torture were used as evidence in his trial
Ensure that Wangdu is not subject to any further  torture or any form of ill-treatment so long as he remains in prison
Ensure that so long as he remains in prison, Wangdu is permitted visits from family members and a lawyer, and that he has access to medical treatment if required
Ensure that the government of the Tibet Autonomous Region immediately ends the practices of enforced disappearances in Tibet, and the use of evidence extracted through torture in trials, in compliance with China's Criminal Procedure Law
We are looking forward to your immediate response
Yours sincerely
Free Tibet will only process the information you provide for the purposes of adding your name to the petition. Your details will not be shared with any other organisations other than the target of the petition. Further details can be found in our privacy policy.