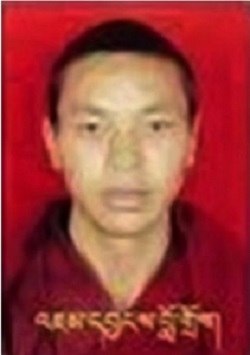 Jamyang Lodru, a monk from Tsenang Monastery, was arbitrarily and violently arrested on 15 May 2016 in Barkam, the capital city of Ngaba County. He has been sentenced to three years in prison. No information has been made public about his alleged crime or any charges.
Since then, his family have not been authorised to communicate with him and have been denied any information about his conditions. Jamyang Lodru's place of imprisonment remains secret as well.
Jamyang Lodru is part of Free Tibet's In The Dark campaign, which aims to find disappeared Tibetans and work for their release. We are working on the cases of eight political prisoners held by the Chinese authorities, all of whom remain cut off from the world with little or no information about their location or current condition. Urge China to release them and respect human rights!
To find out more about the other cases please visit our campaign page. 
Add your voice to our petition, calling on Liu Zuoming, Aba Prefecture Party Secretary, to release Jamyang Lodru:
Dear Liu Zuoming,
We are writing to you to call for the immediate release of Jamyang Lodru (江央洛珠), who was detained on 15 May 2016 in Sichuan Province and has since been sentenced to three years in prison on unknown charges.
Jamyang Lodru is a monk from Tsenang Monastery in Ngaba County. Following his arrest in May 2016 in Barkam, he disappeared and appears to have been held incommunicado. He has since been sentenced to three years in prison. The reason for Jamyang Lodru's arrest and subsequent imprisonment have not been publicly disclosed.
Holding Jamyang Lodru without charge and in incommunicado detention are violations of the Chinese constitution and international law. The lack of access to Jamyang Lodru and information on his current condition and location also raise concerns that he may be subject to torture or other forms of ill-treatment.
With no clear information on Jamyang Lodru 's alleged crime, we are concerned that he had been arrested and imprisoned merely for expressing his opposition to China's policies in Tibet. This is a clear violation of Jamyang Lodru's right to freedom of expression under international law, as well as Article 35 of the Chinese constitution.
Therefore, we urge you, in your capacity as Aba Prefecture Party Secretary, to:
Immediately disclose the whereabouts of Jamyang Lodru and the reasons for his imprisonment
If Jamyang Lodru has not committed a recognisable criminal offence  international law and standards, work to ensure that he is released from prison as promptly as possible and without conditions on his freedom
Ensure that Jamyang Lodru is not subject to torture or any form of ill-treatment so long as he remains in prison
Ensure that so long as he remains in prison, Jamyang Lodru is permitted visits from family members and a lawyer, and that he has access to medical treatment if required
Ensure that the Chinese government immediately ends the practice of enforced disappearances in Tibet
We are looking forward to your immediate response.
Yours sincerely,
Free Tibet will only process the information you provide for the purposes of adding your name to the petition. Your details will not be shared with any other organisations other than the target of the petition. Further details can be found in our privacy policy.