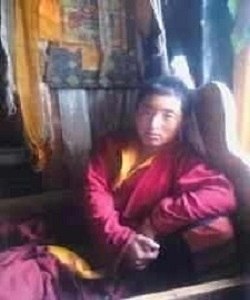 Lobsang Gendun, a monk from Drongsar monastery, was sentenced to 10 years imprisonment after calling for the Dalai Lama's long life and Tibet's independence during official celebrations marking the 92nd anniversary of the Communist Party of China.
He is being held incommunicado and is reported to have been tortured in detention, leaving him unable to walk. Neither his charges nor his location have been confirmed by the authorities. 
We are working on the cases of eight political prisoners held by the Chinese authorities, all of whom remain cut off from the world with little or no information about their location or current condition. Urge China to release them and respect human rights!
Add your voice to our petition, calling on Che Dalha, Chairman of Tibet Autonomous Region, to release Lobsang Gendun:
Dear Che Dalha,
We are writing to you to request the immediate and unconditional release from prison of Lobsang Gendun (洛桑根敦,  Luosang Gendun), a monk from Drongsar monastery in Pashoe County in the Tibetan Autonomous Region. 
Lobsang Gendun is currently serving a 10-year prison sentence following a protest he carried out on 1 July 2013 in Chamdo (Changdu). During the protest he allegedly called for the Dalai Lama's long life and Tibet's independence. 
According to our information, Lobsang Gendun was tortured in detention, leaving him unable to walk. A trial appears to have taken place in secret in September 2014 but since then there has been little information about Lobsang Gendun's whereabouts or condition.
We are gravely concerned that Lobsang Gendun appears to have been arrested solely for peacefully exercising his right to freedom of expression and tortured, both violations of China's obligations under international law as well as its own Constitution and its Human Rights Action Plan.  Lobsang Gendun also appears to have been denied a fair trial including access to legal advice, a violation of international standards on fair trials. 
Lobsang Gendun's location has not been confirmed, nor has his current condition in prison. This raises concerns that he is at risk of further torture or other forms of ill-treatment, and could also be being denied access to necessary medical treatment.
Due to the conditions of his arrest, detention and trial, and the possible ongoing risks to his health, we urge you, in your capacity as chairman of the People's Government of the Tibet Autonomous Region, to:
Immediately disclose the whereabouts of Lobsang Gendun and the reasons for his imprisonment
If Lobsang Gendun has not committed a recognisable criminal offence, work to ensure that he is released from prison as promptly as possible and without conditions on his freedom
Ensure that Lobsang Gendun is not subject to torture or any form of ill-treatment so long as he remains in prison 
Ensure that so long as he remains in prison, Lobsang Gendun is permitted visits from family members and a lawyer, and that he has access to medical treatment if required
Ensure that the Chinese government immediately ends the practice of enforced disappearances in Tibet
We are looking forward to your immediate response. 
Yours sincerely,
Free Tibet will only process the information you provide for the purposes of adding your name to the petition. Your details will not be shared with any other organisations other than the target of the petition. Further details can be found in our privacy policy.